VF died on Nov 21st 2022.
I was pretty sure that Sidoti used to work as a vex mod. Just realized today he had no connection to ifi or vex.There is only one vex mod who is authorizing all the posts, Mainly japearman
Sidoti did mod Vexforum, was on the GDC and involved in the development of Spin Up. He quit sometime after Worlds '22.
Its been 24 hours since anyone posted on theg2m

Can we address the cursedness that you crossed out the two names but it still says "this if the first time AlphaAssault has posted"
No we need to acknowledge the light mode
All the school websites are light mode. Blends right in.
Um, dont mind that

Homie got ratioed on G2M forum

Grade A misdirection. Contents of screenshot wasn't cursed, but the screenshot itself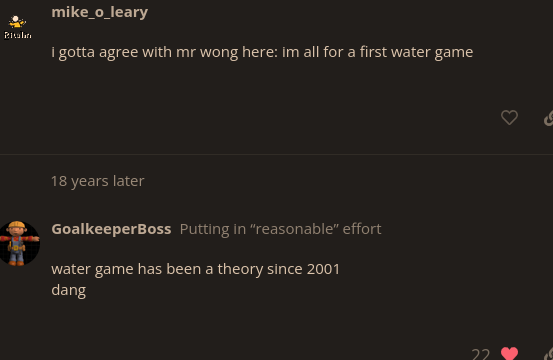 The most cursed thing about this is that GoalKeeperBoss posted this in 2019, 4 years ago. And hasn't been active since April of last year.
So, for what reason did you stumble onto this post?
I can't seem to find this post? Where did you find it?
On chief delphi. I searched water and clicked the oldest topic
I feel like the only thing the moderation team actually does is stops us from putting g2m links and saying anything bad about vex or ifi which is quite sad.